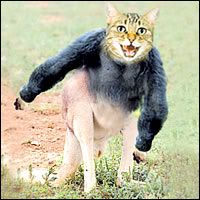 A MYSTERY animal, said to be a cross between a cat, kangaroo and monkey, is being hunted by cops.
The bizarre beast — dubbed the Catgarookey — has been spotted three times roaming a city's streets at night.
The first sighting was by two policemen who saw the creature run out in front of their car in Salisbury, Wilts.
They said it was 2ft high, with a long ringed tail and "the gait of a monkey".
The next night Nicki Lomas, 23, reported seeing a strange animal just a mile away. She described it as "cat-like" with a yellow and black tail with a white tip.
Retired pilot Raymond Clark, 79, then spotted the beast disappearing into bushes in the Laverstock area of Salisbury.
He said it had a sloping back like a kangaroo and believed it could be a coati-mundi — a racoon-like animal from Central America.
Wiltshire Police said the animal was likely to be an unusual pet on the run and they did not believe it was dangerous.
They are hoping someone will take a picture of the creature so they can solve the mystery.
Story
here
.
monkey